Blog Posts
Toyota Motor Manufacturing, Texas
Ever since Toyota brought this plant to San Antonio back in 2003, it has been producing trucks for Texans, by Texans. Producing a new truck nearly every 60 seconds, the Toyota plant here in San Antonio is among the most efficient vehicle manufacturing facilities in the world. Here at Universal Toyota, we like to think that the efficiency and growth comes from the hard working San Antonians employed there every day.
When the plant first opened, it proved to be a huge asset for the city by bringing an unprecedented number of jobs and huge economic growth here to San Antonio – over 1,800 jobs to be exact. Now here we are 15 years later, and the plant is not only helping the economy here in our home town, but it is helping Toyota grow at a rate much higher than originally expected. While producing a Tundra or Tacoma every 60 seconds seems quick, these trucks are selling faster than the plant can manufacture them.
in 2018, the midsize Tacoma pickup truck sold remarkably fast in San Antonio, Texas and Nationwide with at 21.1% increase from the last year. But staying true to the monicker "Everything is Bigger in Texas", the people of San Antonio seem to prefer the full size Tundra, which saw considerable growth in San Antonio over nearly every other city nationwide.
It's no surprise that the Toyota Tacoma and Tundra have found the love and satisfaction of San Antonio's residents. Choosing a Tacoma or a Tundra is a great way to support a brand that has invested billions into this city's workforce. However there's a better reason as San Antonian's to buy these trucks. The Tacoma and Tundra are built with us in mind. Mario Lozoya, director of external affairs for Toyota said: " Toyota has, in the last two decades at least, gone into the strategy of building vehicles where they will mostly be sold." It's fitting that the Tundra and Tacoma are built in San Antonio as you can be sure these trucks can handle the many distinct terrains that come with driving in our city.
Like when Toyota builds the Tundra and Tacoma with San Antonio in mind, we try to do things a little differently here at Universal Toyota. We want to not just make these trucks available to you when you need them most. We want to take the hassle, stress, and worry out of buying a Tundra or Tacoma. All of our trucks come with our exclusive Love It or Leave It Guarantee, Toyota Care No Cost Maintenance Plan, and 24-Hour Roadside Assistance. So if you love San Antonio and you're in the market for a new truck, come see us here at Universal Toyota to see why the Tundra and Tacoma are the trucks for Texans.
____________________________________
2019 Corolla Hatchback
Reliability and Toyota have become synonymous over the years, especially when it comes to our compact cars. The fact is, if you're looking for a new, reliable car with great projected resale value, there's only one car brand for you – Toyota. Not only can you purchase a new vehicle at a great price, but you can get all the reliability with some added excitement in the new 2019 Corolla Hatchback.
The new 2019 Toyota Corolla proves wanting reliability doesn't mean sacrificing excitement. The most immediate factor that excites us is the overall aesthetic of the car. It's more sporty and stylish than any in its class, and in the favored scarlet red color, you'll stand out for all the right reasons. There are clear design choices that distinctively separates the upper and lower portions of the car, giving an overall sleek styling. Compared to previous incarnations, the 2019 Corolla Hatchback is longer and wider, making it roomier and more comfortable to transport the whole team in.
All the excitement doesn't just come from aesthetic upgrades. The specs on the new Corolla have been significantly upgraded from previous Corolla models. You get a whole 31 HP higher than the last Toyota Corolla iM, and a staggering 37 MPG on the highway. You will also harness Toyota's "Dynamic force" with the 2.0-liter inline-four available in every 2019 Corolla, the Corolla Hatchback included.
Still not excited? Let's talk interior then. The first thing we noticed on this Corolla was the extremely clean interior design. The main attraction is the 8.0-inch central touchscreen that lets you control the entire infotainment system and all the gadgets you want to connect to your new car. Connecting your phone, tablet, and music is made easier by the availability of Apple CarPlay for the first time on a Corolla. Available with specific models on the 2019 Corolla is a 7-inch Multi-Information display for the dashboard, keeping you in the loop around every bend. The 2019 Corolla Hatchback is prepared for the cold winters as it offers heated seats to keep your drive feeling toasty.  Lastly, you'll enjoy finding the long way home as you jam out with the new 8 speaker audio system, which also makes the 2019 Corolla one of the best in its class for sound quality.
If all that wasn't enough, at Universal Toyota, San Antonio you can get the aforementioned 2019 Corolla Hatchback in scarlet red for only $23,155. That is over $2000 off MSRP on a brand-new Corolla that everyone can get excited about. With all this and more, the new 2019 Corolla hatchback is sure to bring a new level of excitement to San Antonio drivers who are looking for a reliable compact hatchback.
__________________________________
2019 RAV4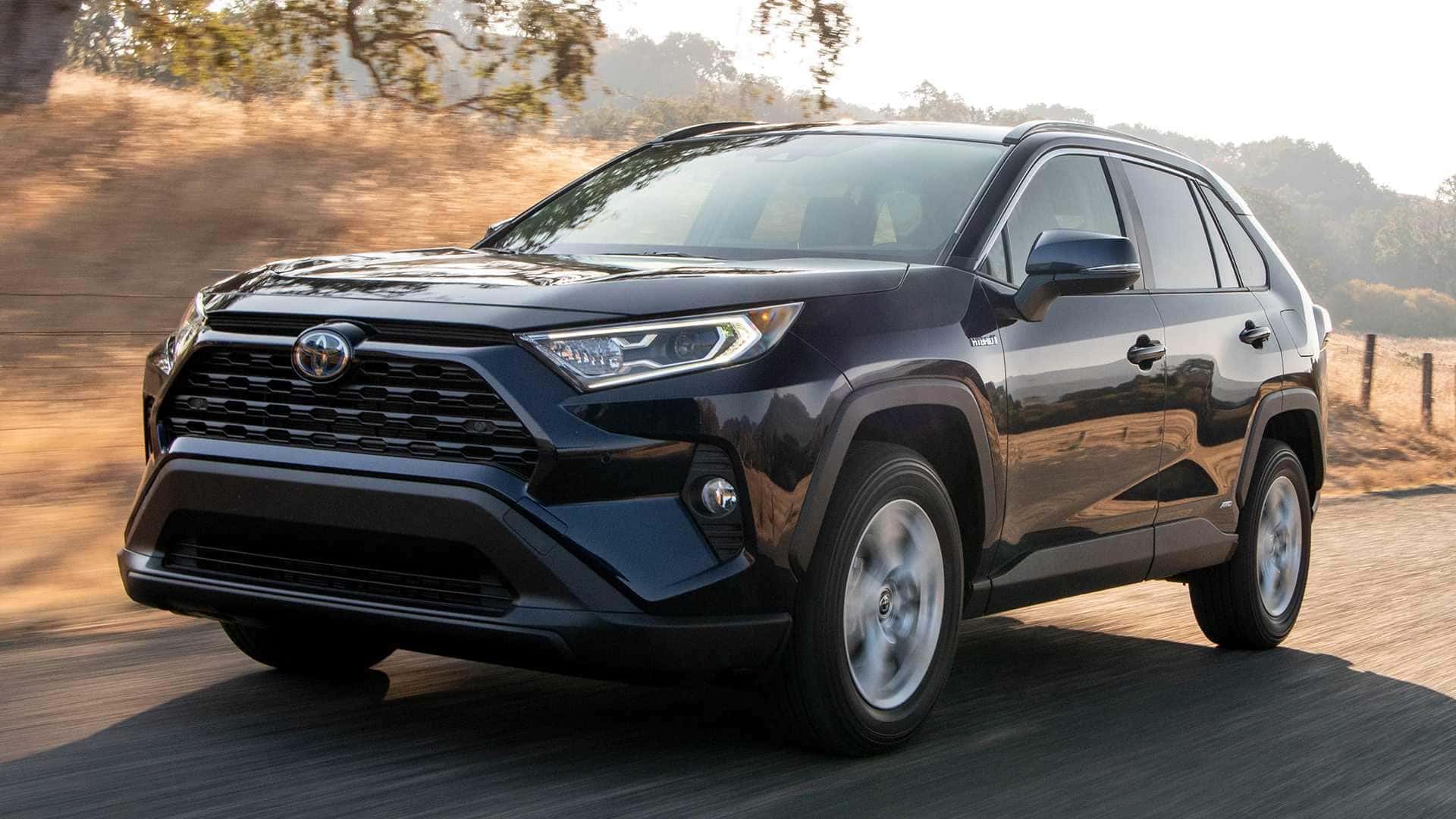 In 2018, the Toyota RAV4 was the bestselling SUV in America. Being the best, however, wasn't enough for Toyota. Toyota would roll at so many improvements to the all-new 2019 RAV4 that the best would get even better.
In terms of exterior improvements, Toyota went with the "bigger is better" philosophy that we are so familiar with here in San Antonio. The RAV4 is considerably larger and wider than previous incarnations. All the extra size isn't just thrown onto the 2019 RAV4. The additional size has been styled in such a way that the 2019 RAV4 has a much more modern look and feel. The most obvious style change is the more prominent front grill with unique designs. Based on what trim you opt in for, you're sure to garner a lot of attention.
The bigger size isn't wasted at all in the interior of the 2019 RAV4 either. Previous RAV4 model owners will immediately notice a more spacious feel across driver, passenger and back seats when they step inside the 2019 RAV4. However, being spacious wasn't enough for interior upgrades. Toyota made sure to give the whole interior a more premium feel and styling. You can get the most premium atmosphere in a 2019 RAV4 by choosing the limited model. If you're more outdoorsy and wanted a rugged interior design, then the Adventure grade is the way to go.
Aesthetic upgrades wasn't all that Toyota brought to the 2019 RAV4. It's a very efficient and practical SUV by every standard. Firstly, the fuel economy has been given a huge upgrade. The new 2019 RAV4 gives you 29 MPG while the hybrid version can get you an even better 39 MPG combined rating. Both of these easily beat the previous 25 combined MPG. Other features that make the RAV4 a very practical SUV in 2019 include: adjustable backrest seat angles, backup camera, multi-terrain select on all wheel drive models, hands-free power liftgate – and many more.
Finally one of the biggest areas the 2019 RAV4 received upgrades was in the safety department. Like most new Toyota's, the 2019 RAV4 brings with it the Toyota Safety Sense – but that's definitely not all. This year's RAV4 brings with it Intelligent Clearance Sonar (ICS) with Rear Cross-Traffic Braking. What does that mean? Well the ICS system will warn you visually and audibly when it detects nearby pedestrians or vehicles. The 2019 RAV4 also brings with it Blind Spot Monitors (BSM). This feature will keep you aware at all times, as it alerts you when a vehicle enters your blind spot. The previous RAV4's made a strong statement in terms of safety features. With the 2019 model, however, the RAV4 dominates the market in safety.
The 2019 RAV4 is the way to go if you're looking for an SUV. The best SUV on the market for several years took a huge leap forward with plenty of improvement across the board. Most importantly, however, Toyota made all these upgrades without sacrificing any details that initially made the RAV4 the bestselling, and arguably most fun SUV on the market.
______________________________
2019 Toyota 4Runner 
With the toughness and sturdiness of a truck, but the comfort and features of a modern car, the all-new 2019 Toyota 4Runner has proven time after time it has what it takes to take on the roads, and thrill adventure seekers.
But what exactly in new for 2019? Well, this year the TRD Pro model has new shocks absorbers and enhanced underbody protection. Toyota has also released a new Nightshade edition in which parts of the exterior are blacked-out.
Whether you are searching for the SR5, SR5 Premium, TRD Off-Road, TDR Off-Road Premium, Limited, Limited Nightshade Edition, or the TRD Pro, the 2019 Toyota 4Runner will definitely hold up to its standards. But first, let's check out their features.
All 2019 Toyota 4Runners have the Entune Audio Plus system, remote keyless entry, backup camera display with the projected path, Bluetooth wireless technology, and more features that can be added on.
Even the base model, the 2019 Toyota 4Runner SR5, comes with advanced features like rugged skid plates, roof rails, a 6.1-inch touch screen, a media player interface, front and rear parking sensors, and an eight-speaker sound system. And it even starts off at $34,900, which is thousands of dollars less than the TDR off-road 4Runner.
The TRD Pro series, the most expensive series in the lineup, is equipped with advanced features like a 2.5-inch TRD Pro-exclusive Fox Internal Bypass shocks, a KDSS (Kinetic Dynamic Suspension System) which makes the 4runner much stiffer, reduces body roll, and nose dive. Overhead console with Multi-terrain Select, Active Traction Control (A-TRAC), VSC43 cutoff, locking rear differential and Crawl Control (CRAWL) 75 switches, and a power tilt and slide moonroof with sunshade. The TRD Pro starts off at $46,615.
For the safety features, the Toyota 4Runner will offer 24-hour care via ToyotaCare technology. Child-safety locks, ABS and Brake Assist technology. The front passenger side will also offer up to eight airbags. This airbag system will protect the pelvis, the knees, and the thorax. The side doors are designed to take a great amount of impact, meaning it can absorb a great amount of energy. Even the tire pressure monitoring system can handle itself in hazardous conditions.
The sturdy design of the 2019 Toyota 4Runner is great for every day commuting to work or weekend off-road adventures. But regardless, it has a pretty tough appearance and looks like it means business. It can fit up to seven people but has some serious cargo space. With the flexible cargo hold, you can pretty much haul as much as you need with you. Some of the 4Runners even have an optional pull-out cargo deck designed to make loading and unloading heavy item, up to 440 pounds easier.
To fit with the "bold presence theme," Toyota decided to give the new 4Runner a distinct style.  First, it will feature noticeable changes on the exterior like a bigger grille and a bumper. It will also come with LED-jogging lights which will be slanted to fit the 4Runner perfectly.
To ensure your Toyota 4Runner stays up to par, Toyota offers two years of complimentary scheduled maintenance. Toyota also offers Limited warranty which covers 3 years or 36,000 miles and Powertrain warranty which covers 5 years or 60,000 miles.