Discover the Corolla Cross Hybrid: Sporty & Efficient Toyota Arriving This Summer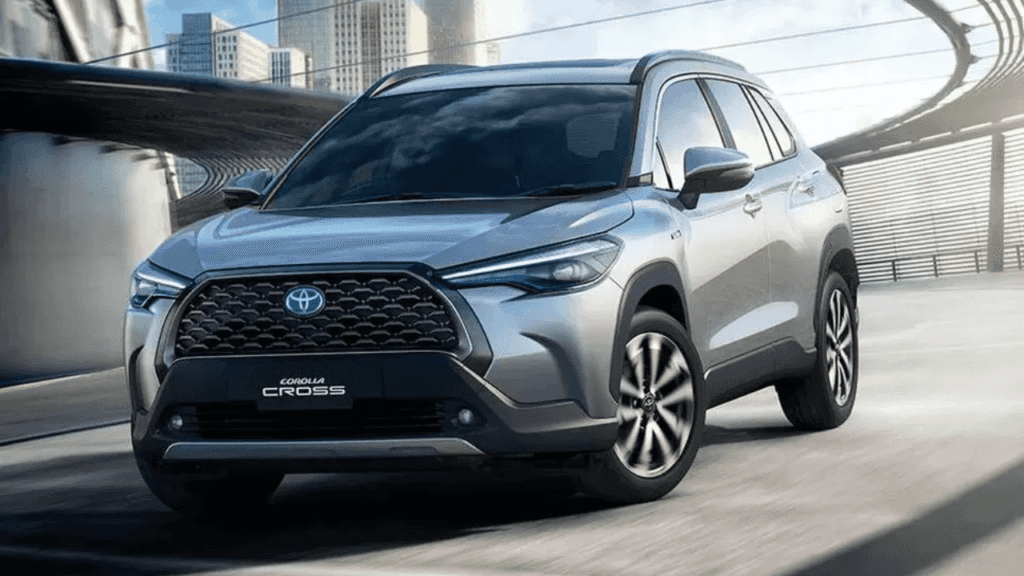 The all-new Corolla Cross Hybrid perfectly blends sporty design and exceptional efficiency. This groundbreaking hybrid vehicle promises to deliver performance without compromising on environmental responsibility. It arrives at Universal Toyota this summer, so you'll have the chance to experience the future of driving firsthand.
Top Performance and an Unmatched Exterior and Interior
Performance and Efficiency
The Toyota Corolla Cross Hybrid boasts a hybrid powertrain technology combining an efficient engine with an electric motor. This union offers increased performance, resulting in 196 horsepower and an impressive EPA-estimated 42 combined miles per gallon rating for all grades. The Lithium-Ion battery is compact, lightweight and strategically placed under the rear seats to maximize cargo capacity and maintain a low center of gravity. This fusion of efficiency and eco-friendly emissions demonstrates Toyota's commitment to a carbon-neutral future.
Stylish Exterior
The Corolla Cross Hybrid's bold design has a sporty edge that sets it apart from its gas-powered sibling. Unique front and rear styling, available two-toned paint and 18-inch alloy wheels create a striking exterior that is sure to turn heads. The sporty appeal extends to the model's customization options, with several two-tone combinations and a variety of colors to choose from, so you can express their personal style.
Advanced Interior
The interior of the Corolla Cross Hybrid offers a spacious cabin with ample cargo space, making it comfortable for passengers and practical for everyday use. You'll find cutting-edge technology throughout the vehicle. That includes a standard Toyota Audio Multimedia System with wireless Apple CarPlay® and Android Auto™, USB-C charge ports and a range of connectivity options like Wi-Fi Connect and Integrated Streaming. In addition, the Corolla Cross Hybrid features a wide array of safety features, including standard Toyota Safety Sense 3.0, Blind Spot Monitor and Rear Cross Traffic Alert for a safe, fun driving experience.
Safety and Reliability
The Corolla Cross Hybrid comes with Toyota Safety Sense 2.0, a comprehensive suite of advanced safety features designed to protect occupants and enhance driving confidence. These include Pre-Collision System with Pedestrian Detection, Lane Departure Alert with Steering Assist and Dynamic Radar Cruise Control, among others. The vehicle's commitment to safety has earned it top ratings and prestigious awards from organizations like the IIHS and NHTSA.
Moreover, Toyota is well-known for its long-term reliability and low cost of ownership. The Corolla Cross Hybrid is no exception. You get a dependable and cost-effective transportation solution thanks to its low-maintenance hybrid powertrain and solid build quality.
Benefit From Years of Innovation and Expertise
The Corolla Cross Hybrid has a strong reputation in the hybrid segment, pioneered by the iconic Prius. It stands out in the crowded hybrid market with its exceptional fuel efficiency, stylish design and advanced safety features.
Additionally, the vehicle's affordability and value for money make it an attractive option for environmentally-conscious drivers seeking a reliable and well-rounded hybrid without compromising on performance or comfort.
Enjoy a Seamless Buying Experience at Universal Toyota
At Universal Toyota, customers can expect an exceptional buying experience with our expert sales team offering personalized customer service. Our trusted Texas dealership a range of financing and leasing options to cater to your specific needs.
Furthermore, our comprehensive after-sales support guarantees ongoing assistance, making your journey with the Corolla Cross Hybrid enjoyable and your experience hassle-free.
Buy Toyota and Experience the Remarkable Corolla Cross Hybrid for Yourself
Visit Universal Toyota today to test drive this eco-friendly powerhouse. Contact our dealership for more information and pre-order your very own Corolla Cross Hybrid now.