Guess Who's Back? Nightshade's Bold Style Returns to the Corolla Family for 2024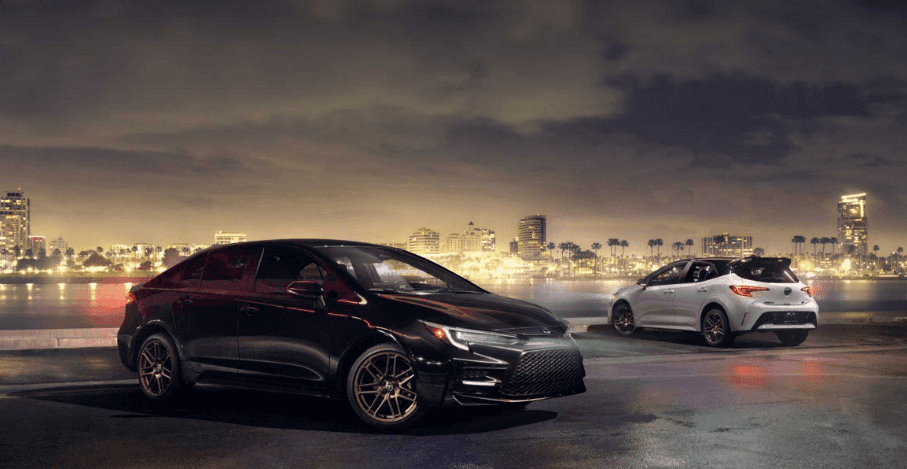 Are you looking for a new ride this summer? You might want to buy Toyota's 2024 Corolla may be your best option.
The latest Toyota news indicates that Toyota's Corolla remains the top-selling car in the US.
According to the latest Toyota Corolla news, Toyota is bringing back the Nightshade Edition for the 2024 Toyota Corolla model year.
In this guide, we'll explore what the Toyota Nightshade Edition does for the new model. Let's also examine how you can take advantage of one of these new cars for sale at a trusted Texas dealership.
Toyota Corolla News: Toyota Nightshade
This special edition of the Toyota Corolla is available on the Toyota Corolla Hatchback, Hybrid, and Sedan. The Nightshade Toyota edition offers character and a bold style with black accents and a blacked-out badge.
Each 18-inch wheel is bronze-finished, adding a touch of contrast to each vehicle. In addition, these vehicles have sport mesh front grilles with Toyota badges, and the sides feature sporty rocker panels as well as heated outside mirrors.
Other stunning 2024 Corolla details include a lip spoiler on the back and a lower diffuser. Toyota's Hatchback model also comes with a big black sport wing, and the roof provides even more personality with its eye-catching two tones.
More of the Latest Toyota News
Each Corolla Nightshade Model is built on Toyota's global architecture platform, also called TNGA-C. With this structure, the vehicle has a rigid structure, a suspension with multiple links in the back, and a front suspension featuring a stabilizer bar. This translates to stellar ride comfort and agility.
Why Buy Toyota's 2024 Corolla?
The Corolla's Nightshade Edition has a robust two-liter, four-cylinder engine. With the Hatchback and Sedan, you can expect to get 35 miles per gallon and 34 miles per gallon, respectively.
In addition, the Hatchbacks and Sedan's gas-powered engines use the brand's Dynamic Shift transmission. This offers the matchless performance feel that Toyota Corolla drivers love.
More on the 2024 Toyota Corolla
The Nightshade Edition of the 2024 Corolla features comfortable sports seats and a color display with easy-to-customize settings. You can also take advantage of the Corolla's multimedia touchscreen and Toyota Safety Sense safety features.
The Corolla is available in multiple colors as well. These include an "ice cap," black metallic, and silver metallic color. The Hatchback also comes with two-tone roof paint combinations, including silver and black metallic. The Corolla also comes with an audio package that can enhance your playlist's sound.
Trusted Texas Dealership New Cars for Sale
According to the latest Toyota news, the Toyota Nightshade Edition of the 2024 Corolla is now available. The 2024 Toyota Corolla stands out for its sleek bronze-finished wheels and black details.
At Universal Toyota, your trusted Texas dealership, we're excited to offer top-tier new cars for sale. We can share with you the latest Toyota Corolla news and help you buy Toyota's 2024 Corolla with confidence.
Get in touch with us to learn more about our vehicles and shop now!