Which Toyota Interior Fits Your Aesthetic?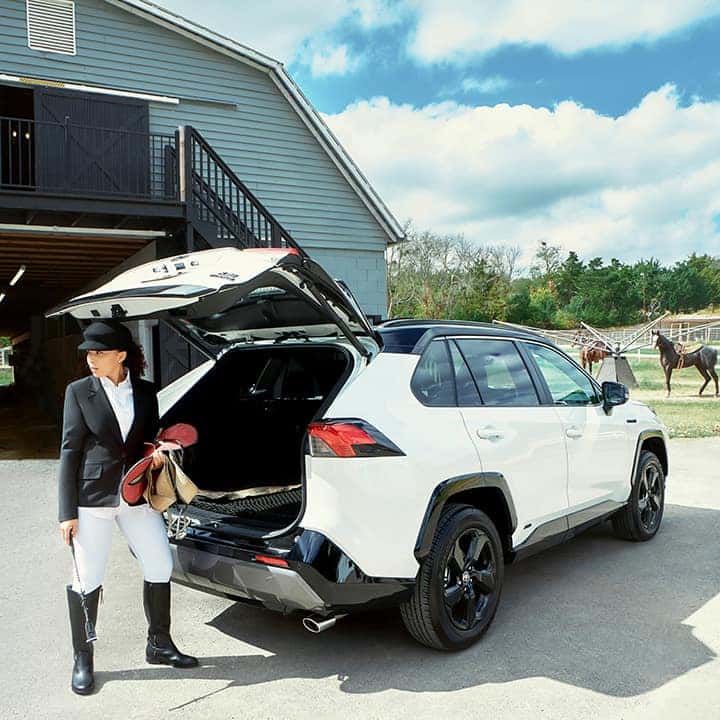 When you purchase a new car, you want a durable one and will keep you and your family safe. Did you know that Toyota has one of the most reliable cars on the market? 87% of the cars they've sold in the past fifteen years were still on the road in 2019.
Not only that, but Toyota has so many models to choose from, so you don't have to compromise your aesthetic for a car that best suits your lifestyle. While some drivers purchase bumper stickers and personalized license plates to decorate their car, others prefer certain interior styles over others.
Here's a guide to Toyota's top models to help you decide which one fits your personal style:
The Camry's Interior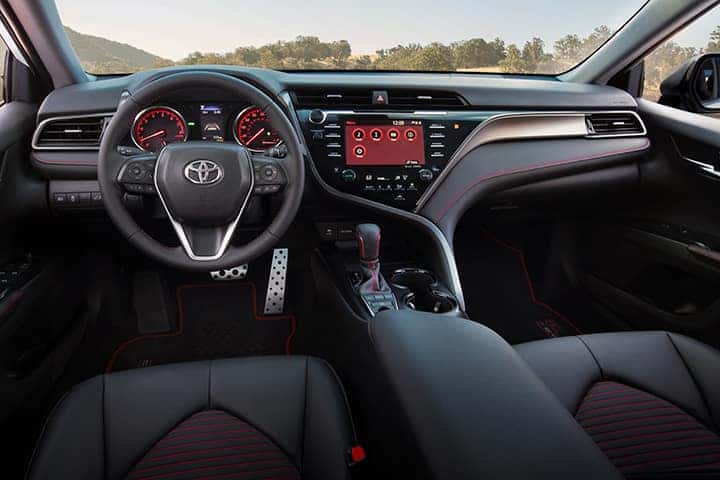 You can't go for a drive without seeing a Camry on the road. It's a classic sedan that won the Best Midsized Car for Money award in 2020. Toyota has improved this car's interior over the past few years to make it look more modern.
They've done so by adding a 10-inch color Head-Up display to the right of the steering wheel. By using Apple CarPlay or Andriod Auto, you can sync your phone up to display your apps. This feature allows you to play your music, use the navigation, and make phone calls.
Additionally, you can take advantage of Wi-Fi Connect and Amazon Alexa if you want to get a complete sense of what this car can do. Adjust the audio settings on the Head-Up display and boost your phone's battery life by using the USB-C or USB charge ports.
Additionally, they've made the driver's side dashboard extra savvy by adding a 7-inch multi-information display. It tells you how many miles you have left in your tank, shows you which direction you are headed, and provides safety alerts.
This car seats five people, and the leather comes in three options: cockpit red, macadamia, and black. It's got 42 inches of legroom in the front row and 38.0 inches in the back row, two cupholders in the front and back rows, as well as a center console for storage.
The Corolla's Interior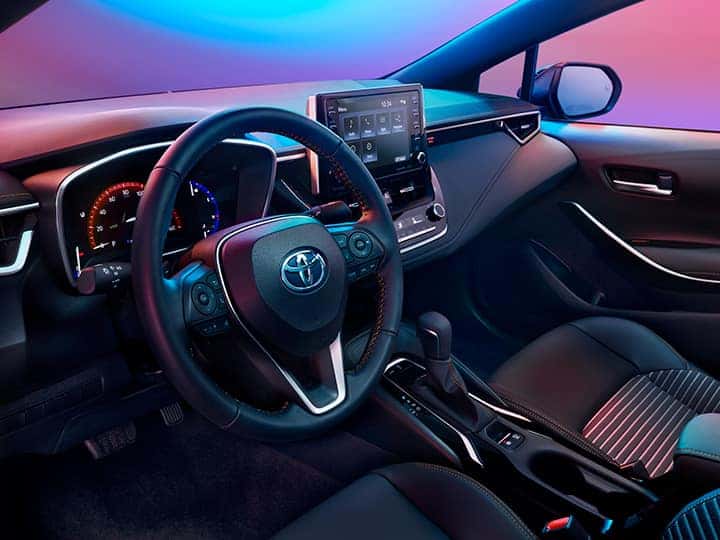 The Corolla is very similar to the Camry, only it's a bit smaller in size. It's the better option for people who don't take a lot of road trips or don't travel with a ton of stuff, as it has a 13.1 cubic foot trunk. And although it seats five people, there's less legroom, which might not be an issue if you have small kids sitting in the back row.
The Corolla has an 8-inch touchscreen display instead of a 9-inch multimedia touchscreen. Despite this slight difference, all the smartphone technology and safety features you get in the Camry, you get in this model. There are two 2.0 USB ports for charging.
The seats will have more of a sporty look if you order the Sof-Tex trim, which adds a pop of color to your car's interior. The options are:
Black with blue Sof-Tex
Macadamia with beige Sof-Tex
Black Sof-Tex
If you don't want to opt for any of these, you can always go with the standard black or macadamia leather. Additionally, it has a leather-wrapped steering wheel that you can get heated to keep your hands warm on cold winter days.
The Highlander's Interior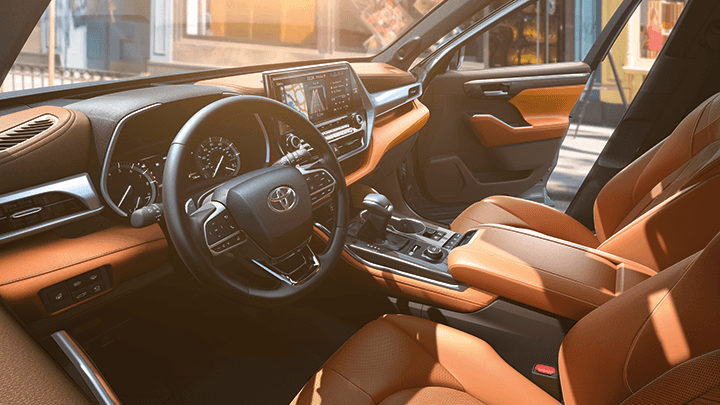 This crossover SUV is perfect for families, as it can seat up to eight people. The third row is foldable, creating more space in the trunk if needed.
There's a good amount of legroom in the first and second rows, 42 and 41 inches, respectively. As for the back row, though, there are only 27.7 inches of space.
On the infotainment front, Toyota has ensured that no passenger gets left out when it comes to enjoying the technological advancements the Highlander offers. With 5 USB ports and two 12V outlets for charging, nobody has to worry about their smartphone running out of battery on long trips. One of the optional features is wireless charging, in case you'd prefer not to keep chords in your car.
There are six JBL speakers around the car for everyone to enjoy the music or podcast playing from the 8-inch touchscreen on the dashboard. When you purchase the Highlander, you'll get a free three-month subscription to Sirius XM—which has roughly 150 commercial-free stations.
Like the Corolla, you can design the seats so that they have a sporty look. There's a two-tone XSE interior option in black, graphite, beige, cockpit red, harvest beige, and glazed caramel.
The Tacoma's Interior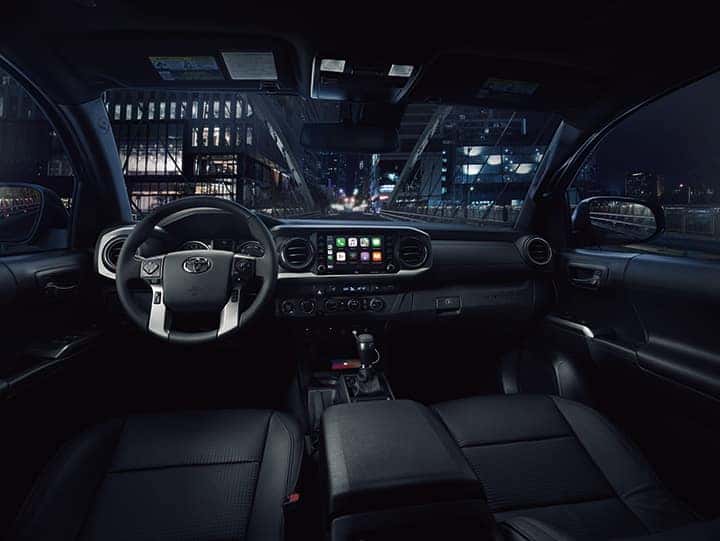 The Toyota Tacoma is a truck that seats 4 to 5 people, depending on which type you buy. There is a bit of disparity in legroom between the front row and the back row—42.9 and 36.2 inches, respectively. However, if you plan to use it mostly for transporting items, the limited space in the back shouldn't be a problem.
This vehicle also has a 7-inch touchscreen that includes Apple CarPlay, Andriod Auto, and Amazon Alexa. There's one USB media port and two USB charge ports. The dashboard is more minimalistic than those in the sedans and SUVs.
There are few color options for the interior; they are black, cement, and hickory. You can get either fabric or leather, but the Sof-Tex option is not available for this model.
The Tundra's Interior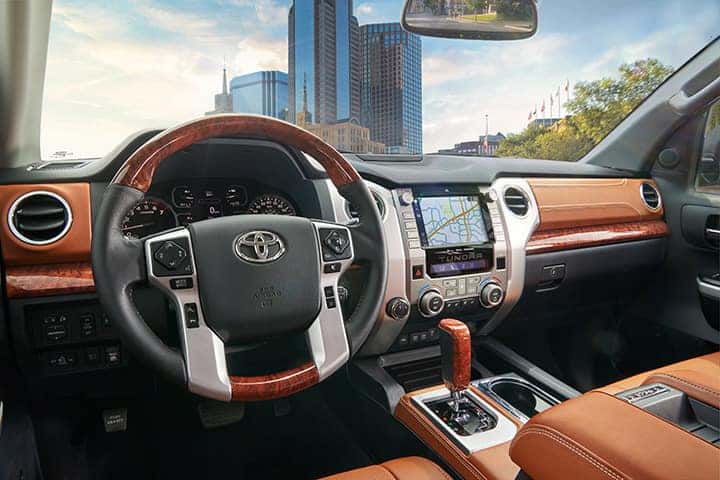 The only other truck that Toyota offers is the Tundra. It has a V8 engine and 4WD. Between this model and the Tacoma, it's the more powerful of the two.
It can seat up to six people. There's a smaller difference in legroom between the front and back row of this vehicle. With 42.5 and 42.3 inches of room, you can comfortably seat the maximum amount of people in this car.
It has an 8-inch high-resolution touch screen, as well as a 4-inch multi-information display on the dashboard. There are three 12V outlets, two in the front and one in the back.
Much like the dashboard layout, the color options for the seat come in graphite, sand, black, and brown. Graphite is the sole vinyl option, while you can only get brown in leather.
The interior also has carpet flooring and cup holders in the front and back rows. There's a remote keyless entry system and an auto-dimming rearview mirror to avoid the glare from the headlights behind you.
Check Out These Toyota Models In-Person to See Which One Best Fits Your Aesthetic
Much like your house, your car can reflect your style and personality. The great news is that you can achieve this mission without breaking your budget when purchasing a Toyota. Whether you want bold leather seats or you're looking for a sleek design, you're likely to find that one of their popular vehicles matches your vibe.
Want to take some of the models for a test ride? If you live in the San Antonio area, stop by Universal Toyota or schedule a home test drive. We offer both 2021 vehicles and older models, as well as services for when you need a repair or part replacement.