2021 Toyota Highlander Review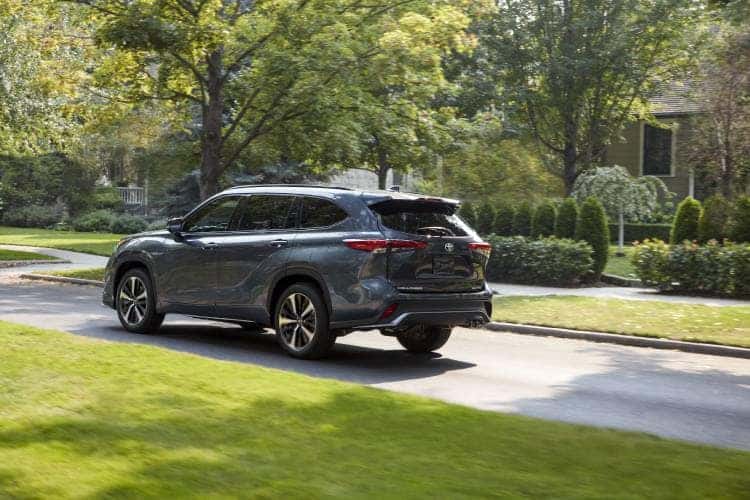 If you loved last year's Toyota Highlander and you're ready for an upgrade, then look no further. The 2021 Toyota Highlander is here!
With all of the tried and true features carried over from its 2020 counterpart, the new Highlander is jam-packed with a ton of new features and trims to choose from.
Read on to see how Toyota's new Highlander stands out among its competition, as well as some of it's features that didn't impress as much.
Here are the Pros and Cons of the 2021 Toyota Highlander
When searching for a family-friendly SUV, you might not expect to find a vehicle that's both exceedingly safe and a blast to drive. With the new Highlander, you get all of that and more.
 Pros
XSE trim
Power and Performance
Quiet ride
Outward Visibility
Infotainment system
Particularly of interest to us was the new Highlander's XSE trim. Toyota gave it their all this year with this variant, outperforming in their efforts to shift along with the new market trend; sporty SUVs.
Cons
Tight third row
Lacking in cargo space
Composed but clunky
Just like last year's Highlander, the new Highlander's third row is much too small for an adult to sit in comfortably. If you were banking on Toyota addressing this issue this year, you will be disappointed.
Toyota Had Sport in Mind With the 2021 Toyota Highlander's XSE Trim
The XSE trim features an 8-speed automatic transmission. It comes standard with front-wheel drive and an available Dynamic Torque Vectoring All-Wheel Drive option.
Even though the XSE variant has the same engine as the Highlander's other 6 trims (3.5-L Turbo V6 engine at 295 hp), Toyota fired this one up with a more aggressive exterior look.
From its Chrome Dual-Tip Exhaust to its 20-inch Machine-Faced Wheels with Black Accents, plus a ton of other exclusive features, Toyota really put the pedal to the metal this year with the XSE trim.
Power and Performance
What does a 3.5 liter V6 DOHC 24-valve D-4S Injection Atkinson-Cycle capable engine really mean anyway?
It means you're in for a sweet and easy ride. The 2021 Toyota Highlander also has Dual Variable Valve Timing, which means its stop and start capabilities are as smooth as its engine grease.
Paired with an 8-speed electronic automatic transmission, it feels seamless. At 295 horsepower, expect to accelerate from 0 to 60 mph in as little as 6.5 seconds.
It has a fuel economy of 21 mpg (city) and 29 mpg (highway). The hybrid version fuel-sips at 36 mpg.
What makes the 2021 Highlander, so fun is that you get all this power, and still, the steering and handling are tight and easy to control.
It even has an optional AWD system, increasing traction to combat slick roads or overcome inclement weather conditions.
A Quiet, Comfy Ride
Whether you're driving 20 mph by a school or 85 mph down a country road, it makes little to no difference. There's nothing quite like the Toyota Highlander's quiet and comfortable 8-seat cabin experience.
The power-adjustable driver's seat and the passenger's side are well-padded and bolstered. The lateral support makes for a comfy addition, too.
The wind is muted no matter how fast you go, and traffic noises are canceled, too. Say goodbye to the hustle and bustle of the road, and hello to peace and quiet.
And yes, this powerhouse of an SUV DOES have excellent suspension and absorbs all road imperfections. You won't feel a single bump.
A Commanding Outward Visibility
Although a rear-view camera comes standard, you'll hardly need it because the roof pillars are thin. You'll be able to see clearly from the front, the side, and even the rear.
This is especially handy for families as far as safety is concerned. You'll have a birds-eye view of everything from adverse road conditions to Little Sally misbehaving in the backseat.
Easy to Use Infotainment System
You will have two options: the 8-inch touch screen that comes standard or the optional 12.3-inch screen. Both are user friendly and come pre-packaged with apps such as Google Maps, Spotify, Apple Music, Messages, etc.
If you have the XLE trim or above, you can increase or decrease the seat climate using the touchscreen. The knobs on both ends are easy to turn, too, and they interact well with the screen. Everything feels modern and responsive.
Where the 2021 Toyota Highlander Falls Short
Not everything about the new Highlander blew us away. There were some minor setbacks involving slight size quirks and gripes with cabin space.
Tight Third Row
Although the first and second row is an easy fit, the last row might prove claustrophobic for anyone over 6 feet. There's barely any leg space between the super flat back seats and the comparably spacious second row.
Limited Cargo Space
You only get 16 cubic feet of cargo space. This doesn't bode well for long road trips or camping ventures with large families. If you can manage it, taking down the third row will clear an additional 32.4 cubic feet of space.
If you're planning on bringing more than 2 or 3 kids to the family cottage, you're going to want to bring an extra vehicle to pack all of that camping equipment.
 It "Feels" Big
The 2021 Toyota Highlander feels slightly overburdened by its bulky size. You do feel like you're being whipped around quite a bit sometimes, especially on tighter turns.
It's much less awkward than its 2020 counterpart because the wind doesn't hit so hard. The front-end is much more aerodynamic, but the improvements aren't as sleek as they could have been.
The Verdict
This year's Highlander is a force to be reckoned with.
The cool new sporty look of the XSE trim, smooth handling, slick start-and-stop engine, and a hefty list of other safety and functionality features makes the 2021 Toyota Highlander stand as a mighty competitor against other new SUVs in the market today.
Consider Taking a Closer Look at the 2021 Toyota Highlander!
Head over to Universal Toyota today to see the new 2021 Toyota Highlander in all its glory. If you decide it's a perfect fit, our Toyota financing team is always standing by and ready to help you with all your buying or leasing needs!