5 Ways to Prepare Your Toyota for the Winter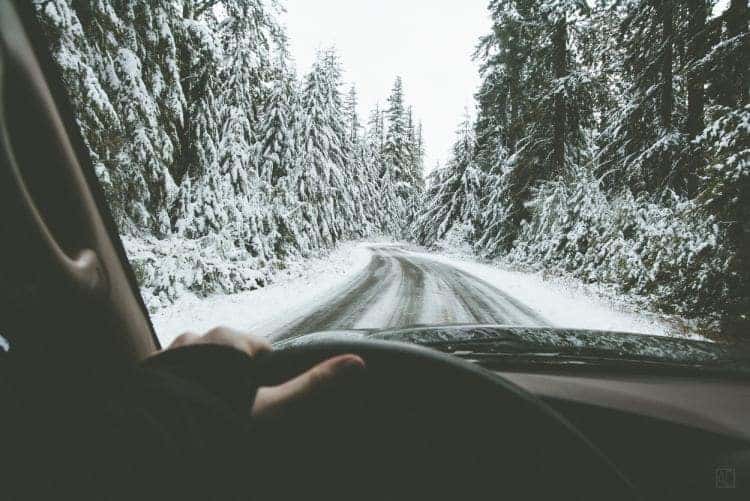 Winter is the most dangerous season for driving. Fender-benders are 14% more likely to occur during the first snowfall than any other day of the year.
You can't avoid driving for an entire season. But you can take precautions to winterize your Toyota and protect yourself while on the road during the winter months.
How can you ensure driver and car protection this winter? We've outlined five tips for preparing your Toyota for the winter season.
1. Prepping for Winter: Check Your Tires
Tire pressure responds to fluctuations in temperature. Vehicle owners should check their tire pressure when the seasons change, and especially when winter weather rolls around.
Tires that are not inflated to the correct levels can cause a vehicle accident. In fact, low tire pressure is one of the leading causes of tire failure in America. In 2017, the National Highway Traffic Safety Administration stated that 11,000 vehicle injuries, plus an additional 738 on-road fatalities, were due to poor tire pressure.
Therefore, as the temperature gets lower, check your tire pressure.
How do you know the correct pressure level for your tires? The answer is in your owner's manual or on a sticker inside the driver's door. Use a tire pressure gauge to read the levels on each of your tires. Adjust the pressure as necessary.
2. Winterize Your Toyota: Inspect Your Battery
When you winterize a car, checking your battery is a critical step. Your vehicle's battery can last anywhere between three and five years. When it dies, your vehicle cannot function.
Driving with a failing battery is also dangerous. The battery stores electricity, and when it can't operate, the faulty battery can destroy your vehicle's starter or charging system. The damage leads to expensive vehicle repairs.
It's important to check your battery before winter weather hits to ensure your vehicle can operate through the coldest months of the year. The more you ignore your battery, the greater your chance of breaking down. Getting stuck on the side of the road isn't fun no matter what time of the year, but it's especially dangerous when temperatures reach below freezing.
Give yourself peace of mind this winter by checking your battery before the temperature drops. If your battery needs replacing, your trusted Toyota service center can help.
3. Preparing for Winter: Change Your Wiper Blades
Getting caught driving in a snowstorm is stressful. But what's worse is navigating through winter weather with a set of old wiper blades.
Driver smarter this winter by replacing your wiper blades before the winter season begins.
Vehicle owners should be changing their wiper blades every six months. The better condition your wiper blades are in, the more they improve visibility and prevent an accident.
Common signs your wiper blades need replacing include:
Wiper blades create squeaking and chattering noises when moving across the glass
Wiper blades stick to the windshield
Wiper blades leave marks or streaks on the glass
Wiper blades vibrate as they move across the windshield
Check your vehicle's owner manual to find the most appropriate size wiper blade for your car. Some vehicles require blades of two different sizes, so it's essential to ensure you are installing the right sizes.
4. Get Ready for Winter: Replenish Vehicle Fluids
To prevent getting stranded during the cold months, top up your vehicle fluids before temperatures start to drop. Without these six crucial fluids, your car cannot function, and you increase your risk of an accident or breakdown.
Brake Fluid
Brake fluid ensures your vehicle's brakes can operate. Your brakes are a crucial part of your vehicle, but having a sturdy set of brakes is especially important when driving in winter conditions.
Brake fluid should be checked when you receive an oil change (so every three months or 3,000 miles). Brake fluid should be drained and replaced every two years.
Transmission Fluid
Transmission fluid ensures your vehicle's gears run smoothly. Your car requires enough transmission fluid in order to operate. When transmission fluid drops below healthy levels, your risk of vehicle failure increases.
Coolant
Coolant (antifreeze) is one of the most important fluids in your vehicle. It regulates your vehicle's engine and prevents your car from overheating.
Drivers should top up their coolant levels in the winter and the summer. Your coolant should be completely replaced every two years.
Windshield Wiper Fluid
Winter snow and rain can lead to muddy driving conditions.
Optimize visibility and reduce your risk of an auto accident by topping up your windshield wiper fluid. The liquid allows your wiper blades to clear away residue and sludge, leaving you with a crystal clear windshield.
Power Steering Fluid
Winter driving means relying on your steering wheel to navigate across treacherous conditions. Don't get caught having steering problems in the middle of a storm. By replenishing your power steering fluid at the beginning of winter, you can enjoy easy and smooth steering for months to come.
Engine Oil
Engine oil keeps your vehicle's engine lubricated. Check your oil level regularly, especially before making a long drive.
Keep up with regular oil changes, and schedule an extra one before the winter if you're anticipating driving long distances.
5. Drive Safe This Winter: Prepare an Emergency Cold Weather Kit
A smart driver is prepared for the worst. Give yourself peace of mind while on the road this winter by making a cold-weather kit in case you get stranded.
Recommended items to keep in your emergency kit include:
Ice scraper and snow brush
Flashlight
Jumper cables
Bottled water
Blanket, sweatshirt, spare jacket, and gloves
Road flares
Extra windshield cleaner
Tire chains and tow strap
Bag of sand (for traction)
Hand warmers
Keep your supplies in your trunk. Try to place them in a clear container or bag, so the emergency kit is easy to find.
Meet the Best Toyota Dealership in San Antonio
Do you need a hand winterizing your Toyota? Let the local experts help.
We are proud to offer drivers Certified service, including preparing your vehicle for when the temperature drops. Our technicians will even pick up your car and deliver it back to you to ensure contactless vehicle maintenance.
Contact us to learn more about our vehicle services and to schedule your appointment.